Welcome to the BRA COVID-19 Resource Guide. Below you will find resources for the benefit of all board specialty retailers (BRA Retail Members and non-members alike) during this challenging period. The Board Retailers Association is actively aggregating resources to assist you in navigating these uncharted waters. We will be updating this page with additional resources daily. If you are interested in contributing relevant information or helpful resources that will benefit other board specialty retailers, please email our Executive Director at doug@boardretailers.org
Relevant and trustworthy online resources providing facts related to transmission of Covid-19 (Corona Virus) and strategies to battle the spread #spreadthestokenotthevirus
Center for Disease Control (CDC) – Official Website
Flatten The Curve – Everything you and your customers need to know to battle COVID-19 is on this website
World Health Organization – Mental health and psychosocial considerations during the COVID-19 outbreak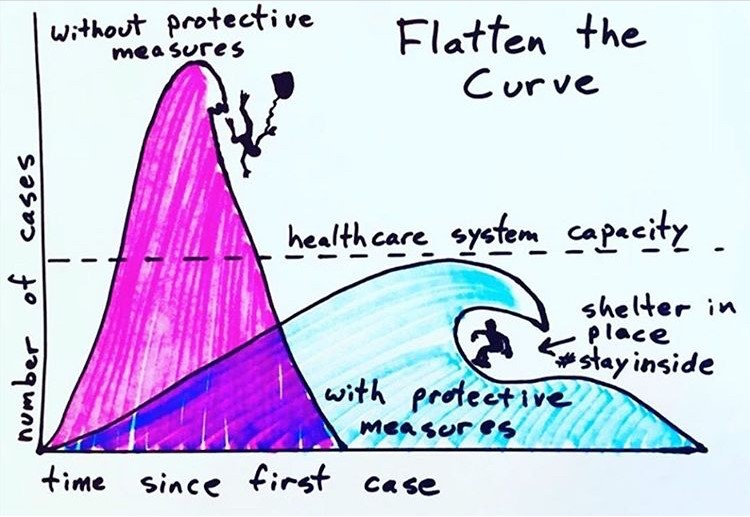 Relevant educational webinars (upcoming)
Webinar: Special OIA Session – Coming Out Of Crisis
Please join Shoshin Consulting and OIA for a partner webinar. As COVID-19 and its after effects rock our communities, profitability and business plans, the outdoor industry finds itself in unprecedented times. Shawn Rhodes has made it his life's work to study teams who found ways to survive – and even thrive – in the most challenging and dangerous environments on the planet. We've asked him to specifically address dealing with the aftermath of this current crisis for our members. In a special virtual session just for members of OIA, Shawn will walk us through the following:
• Recapturing lost profitability in our businesses
• Planning for an uncertain workforce composition while not sacrificing performance
• Creating contingency and continuity plans so we can weather the current (and future) storms of COVID-19
Tuesday, June 2nd at 1 p.m. ET / 10 a.m. PT Register For This Webinar
Webinar: Special OIA Session – Coming Out Of Crisis As COVID-19 and its after effects rock our communities, profitability and business plans, the outdoor industry finds itself in unprecedented times. Shawn Rhodes has made it his life's work to study teams who found ways to survive – and even thrive – in the most challenging and dangerous environments on the planet.
In a special virtual session, Shawn will walk us through the following:
Recapturing lost profitability in our businesses
Planning for an uncertain workforce composition while not sacrificing performance
Creating contingency and continuity plans so we can weather the current (and future) storms of COVID-19
Tuesday, June 2nd at 1 p.m. ET / 10 a.m. PT Register For This Webinar
Relevant educational webinars (on-demand)
> Crystal Media – 3 Tips To Get Started With Social Selling Today and Staying Top-of-Mind and Connected to Customers During a Pandemic
> Management One – 1) "The Retailer's Guide to the Economic Stimulus Package & Financial Options to Address COVID-19" – The CARES Act is a complex mix of government aid and bank loans each with their own timelines and requirements. The parameters and regulations for these loans is changing hourly! 2) With rent being one of the highest monthly expenses for brick and mortar retail businesses, it's a good idea to approach the subject of temporarily altering the structure of your agreement – The Art of Landlord Negotiation to Ease the Highest Monthly Expense In Retail 3) Retailer Roundtable on Recovery 3) How To Right Size Your Business For Recovery
> Outdoor Industry – Economic Impact of Coronavirus and What Happens Next and SBA Economic Injury Disaster Loan Information for Small Businesses and Understanding What Is In The Economic Stimulus Package plus COVID-19 WEBINAR: FAMILIES FIRST CORONAVIRUS RESPONSE ACT (FFCRA): WHAT ARE YOUR OBLIGATIONS FOR PAID AND UNPAID LEAVE? as well as Thriving In Chaotic Times: The Neuroscience Behind Our Distress and Insurance Coverage For Outdoor Retailers AND Manufacturing Companies and Conversation With Buck Rowlee Sales Rep (NC) plus Real Estate Rights And Strategies For Business Owners and Small Business Support To Boost Economic Recovery plus INGENUITY & REDISCOVERY: THE CONSUMER RESPONSE TO COVID-19 and Transitioning Retail Experiences To Keep Shoppers Safe
> Outdoor Retailer Weekly Chat – Bob Phibbs, The Retail Doctor – This webinar will goes over how to bring your crew back from furlough, how to make your customers feel safe again and how to manage the overall optics of your store.
> Outside Looks Retail – Retail-Vendor Relationships (During A Pandemic)
> Procopio's Labor & Employee Team – Answers to the Questions Employers should be asking regarding COVID-19 plus how business insurance can help cover losses related to Covid-19
> Retail Smart Guys – Reopening Your Store – The Things That You Are Not Thinking About (Getting Through The Covid-19 Nightmare) plus access to the Retail Recovery Playbook
> Retail Toolkit Webinar Series – Campfire Series – tackles the challenges facing every store owner, with practical, actionable advice from industry leaders, expert consultants, and independent specialty retailers like you
> Retail Wire Webinars – The New Real Time Reality Of Inventory and Empowering Retail Workers (Technology Advancements And Handheld Devices
> Stand Up 4 Retail Webinar Series (brought to you by the good people behind Surf Expo and Outdoor Retailer) –
1) 5 Realities Retailers Can Do Now To Help Protect Their Businesses Later 2) 5 Virtual Strategies Brick & Mortar Stores Can Easily Implement Now 3) How Brick & Mortar Stores Can Quickly Implement Other Selling Strategies Into Their Operations Amidst COVID-19 4) Best Practices For Curbside Pick Ups, Local Deliveries, Shipping and More Amidst Covid 19 5) Opening Your Virtual Doors: How To Start Selling Online During Covid 19 6) Safeguard Your Amazon Business: How To Keep People From Stealing Your Sales (Brand Protection) 7) How To Increase Your Webstore Traffic 8) How To Grow Your Amazon Business For Massive Success In A Post-Pandemic World 9) Covid 19 Communications: How To Keep Your Customers Engaged 10) 10 Action Steps To Rebuilding Your Retail Business
> Total Retail Webinars – Covid-19: Driving Permanent Change For Brands And Retailers and Critical Factors to Grow Retail Revenue in a Disruptive Economy plus Covid 19's Impact On Retail: Best Practices For Personalization and Essential Factors To Consider As Customers Return To Store
> Wise Marketer Group – Navigating the Crosswinds: Managing a Loyalty Program in Uncertain Times
Financial Resources and Government Updates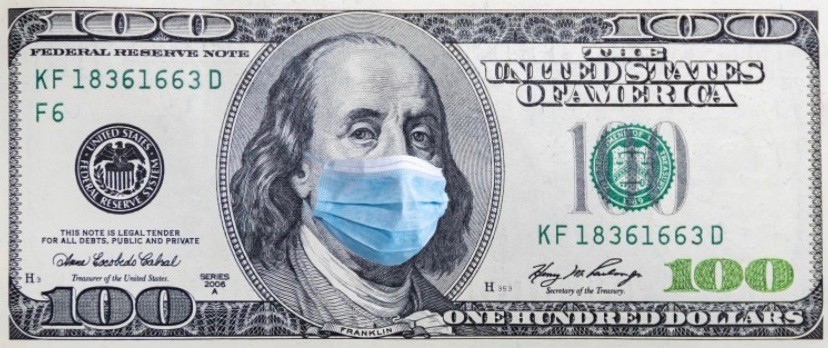 Tap into financial assistance, tax relief and other options
Accounting Institute – Breakdown of Coronavirus Tax Breaks For U.S. Citizens
Facebook Small Business Grants: Facebook Boost Grant Program
Federal COVID-19 Relief Bills Overview – Update on government efforts to support individuals and businesses.
FinIMPACT – Best 8 Financial Tools To Combat Covid 19
Free Legal Assistance – 30+ Law Firms Sign Up for New Program to Provide Pro Bono Assistance to Help Small Businesses Survive Economic Impact of COVID-19
ioby has launched a new match grant opportunity: National COVID-19 Community Response and Recovery Match Fund. Wherever you are in the United States, when you crowdfund for a project that responds to COVID-19 in your community, they'll waive their fiscal sponsorship and platform fee, and double your donations dollar-for-dollar up to $8,000. Learn more.
Institute for Local Self Reliance – Lobbying Efforts on Behalf of Small Business
IRS Coronavirus Tax Relief – Tax Filing Update from the IRS and Extension On Tax Filing Deadline And Economic Impact Payments
LendEDU Opportunities – How Small Businesses Can Get Help During Coronavirus Outbreak
LISC has launched a Small Business Relief Grants initiative to support small businesses during the pandemic. Grants will be made in the amounts of $5,000, $7,500, and $10,000. Applications are due Tuesday, April 28 at 11:59PM EST. Learn more and apply.
Salesforce is partnering with Ureeka to offer eligible small businesses the opportunity to receive a $10,000 grant to help them through the COVID-19 outbreak. Learn more.
SBA Program Comparisons: Paycheck Protection Program (PPP) and Economic Injury Disaster Loan (EIDL) – This comparison chart is very helpful
State by State Tax Relief – The American Institute for Certified Public Accountants has created a guide for state tax filing guidance for the coronavirus pandemic
U.S. Department of Labor (DOL) has released a mandatory employee rights poster that should be posted or be distributed to employees electronically (email or online portal). Also be sure to visit their Questions and Answers page
U.S. Chamber of Commerce – Small Business Loan Guide and Checklist and Small Business Resources – The coronavirus is causing financial difficulties for businesses across the U.S. Here are five resources that can help you navigate this difficult situation
U.S. Small Business Administration – Funding options – The SBA will work directly with state Governors to provide targeted, low-interest loans to small businesses and non-profits that have been severely impacted by the Coronavirus (COVID-19). The SBA's Economic Injury Disaster Loan program provides small businesses with working capital loans of up to $2 million that can provide vital economic support to small businesses to help overcome the temporary loss of revenue they are experiencing. According to the SBA, small business owners in all U.S. states and territories are currently eligible for a low interest loan due to the coronavirus.
Contact your local SBA Office – https://www.sba.gov/local-assistance/find/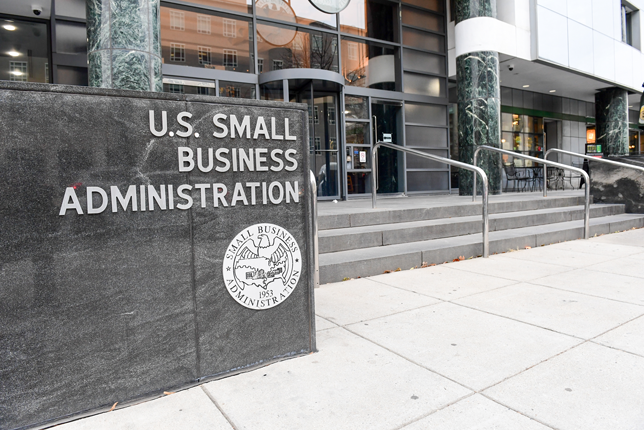 A plan of attack
So many possible ways to address concerns over this developing situation. Here are a a number of possible strategies (compiled from a variety of trusted online resources as well as professional retail business consultants) that as retailers you can focus your attention on right now:
Confront the threat

Hoping for the best is NOT a strategy. Accept the fact that a real threat to your business is imminent, and organize a team meeting with your employees to formulate a strategy and manage expectations.

Contact every vendor

Find out what is getting shipped and how they are dealing with supply chain interruptions. If you cannot handle additional product or your invoice right now, convey that to them as well as the sentiment that you absolutely value them as a brand partner and want to work with them to set up a plan over the next few months. Realize that the brands are suffering from and were blindsided by this horrible pandemic too. Be sure to use this time to build Vendor relationships.
Convey specific instructions related to accepting goods from your vendors, based on issues including closures and staff shortages related to coronavirus threats.

Start the conversation about fall orders now, and position yourself in the front of the line by communicating clear needs and timelines for delivery.
Hustle to get the goods!! Reassess your vendor list and sourcing channels to explore new product lines that could resonate with your audience.

Push Gift Cards!!!

Fact: 20% of the value of all Gift Cards are never redeemed
Some of your customers may not have an immediate need to purchase products from your online, but most will want to keep your business from sinking by simply purchasing a Gift Card
You can incentivize your Gift Card Sales by tying a five to fifteen percent bonus on the dollar amount for every $25 increment.
In these uncertain times, you may not be able to effectively fulfill online orders due to closures and potential delays in shipping but you can always send an email to confirm payment that you can hold until you reopen.
Consider receiving other forms of payment including via VENMO, Paypal, Credit Card over the phone or other formats that do not involve actual touching of cash or commonly used credit card terminals.

Engage your customers on Instagram and Facebook even more now

Just because your doors are closed does not mean you cannot create remarkable customer experiences via social media
Host Instagram and Facebook contests
Post and repost positive / helpful images and videos reduce fears, help build shop loyalty and sell Gift Cards.
Filming and posting videos of you speaking directly to your customers and reassuring them that you will be there for them in the future despite your doors being closed now.

Analyze and organize your product classes

Inventory is the lifeblood of your store, and it's important to know how these goods flow in and out if you are to make more informed decisions. Organizing your goods into meaningful classes and sub-classes—and structuring your sales reports around them—will provide quicker insight into what merchandise is resonating with your customers. This data is crucial when prioritizing which items to source as you enter a difficult buying market.
Your unexpected down time should be used to sharpen your business tools and processes not to binge watch

Markdowns: Hold off on clearance and deep discounts

The risk of inventory shortages should give you pause on that next clearance sale. Evaluating your inventory flow at the class level can reveal which areas can absorb a markdown without stocking out.
Providing a discount on shop branded product can be justifiable since your margins are typically higher and those products also serve to promote your business. Hit us up if you would like to be introduced to one of our Vendor Partners that will accomodate lower minimums and lower unit prices on shop branded product for BRA Regular and Distinguished Members.

Consider slightly increasing markups on select items

Don't stop at markdowns. Spend the time and energy necessary to see where you can grab a little more margin from hot sellers without alienating your customers.

Alleviate customer concerns

Your customers are seeing the same media coverage about the coronavirus as you are. Getting ahead enables you to use all available lines of communication to confidently ease their concerns about product availability and even store cleanliness.
As mentioned above, a video post of you speaking to and relating to your customers will go a long way.

Be a community leader, cross-promote other businesses in your retail community and share positive and helpful information.

All ships rise with the tide. You are a community leader (whether you like it or not). Lead your community by organizing with other community oriented business owners and sending a message that pulls the community together for a common goal of increasing awareness, positivity and even local sales while decreasing fear and negativity.
Reaching out to fellow retailers could reveal strategies that might work in your store as well.

Assess your financial position and don't hide from your Landlord

When was the last time you did a full break-even or a comprehensive financial analysis of your store? A reality check could help uncover areas of flexibility to help increase your cash flow and improve long term operational practices.
Approach your landlord in a way that requests rental abatement (or defereral) professionally while conveying what other costs that you are reducing and what else you are doing to keep your business running.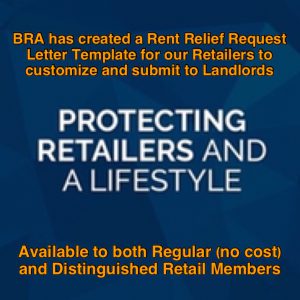 You can email doug@boardretailers.org if you would like us to send you this customizable form letter template as well as some links to relevant articles that back up your position, which you can send along to your Landlord with the letter.
If you are not yet a BRA Regular (no cost) or Distinguished Retail Member, please complete the super simple join form Shortly after it is received, we will email you the template and links as well as the link to access the BRA Office Depot Preferential Pricing Program.
Additional applicable retail related articles and resourceful websites via the following links:
PLEASE NOTE: That although the informational resources and strategies contained in this resource guide were derived from what were deemed as reliable and credible sources, the views and opinions of those sources are not necessarily in line with those of the Board Retailers Association, its Board of Directors, its Chairman or its Executive Director. In addition, we are not legal, tax or financial advisors and highly recommend consulting your lawyer, accountant or financial consulting professional before making significant financial related decisions.
From time to time, BRA will be sending out updates that we consider important to our board specialty retail community. To stay informed and receive special benefits related to Board Retailers Association including the Office Depot Preferential Pricing Program, be sure that you opt in to our email distribution list by joining as a Regular (no cost) or Distinguished Retail Member via this super simple join form.
You can also follow Board Retailers Association on social media via Facebook and Instagram.
Do not hesitate to call, text or email our Executive Director with any questions or if you need anything that this guide does not cover.