SIMA hosted a Speaker Series event at The Ocean Institute where brand leaders explored the latest in e-commerce strategies. This session was for any industry employee who is looking to enhance or gain new insights on e-commerce performance.
BRA Executive Director, Doug Works, attended the SIMA E-Commerce Speaker Series.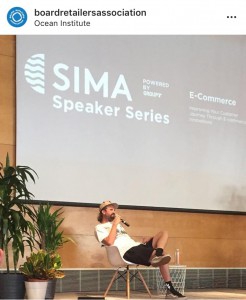 Above is a photo captured by Doug of @shaunneff speaking about everything from going to the 99 cents store to purchase headbands and beanies that he would sharpie his name on and give to guys like @travisrice and @chadotterstrom to wear (since their contracts did not preclude them from wearing a different brand of headwear) to doing deals with @snoopdogg to getting hired by Target to redo their kids biz to starting his Brand Incubator (Beach House) to his super successful hot tub shorts to him being the 2nd largest shareholder of @sunbum, to the importance of working closely with retailers and more.
Such a remarkable event at such an epic venue.
Thanks for the invite, SIMA. – Doug Works, BRE Executive Director
Shop eat Surf PR continued
Speakers included:
SHAUN NEFF – Founder – Neff & Beach House Group.  Entrepreneur – Advisor – Investor – VIDEO of his presentation: Shaun Neff's Monologue at SIMA Speaker Series
JAKE KASSAN – Co-Founder and President, MVMT and CODY DEBACKER – Head of Retail Experience, Shopify and Director of Shopify LA – Video of their presentation: Conversation between Jake Kassan and Cody Debacker at SIMA Speaker Series
Event photos
ABOUT SIMA SPEAKER SERIES, POWERED BY GROUP Y
Introducing the SIMA Speaker Series, a set of local seminars that will explore pertinent topics brands are facing in the changing marketplace. Seminars will feature experts from leading, progressive industries to show brands how to expand their reach and foster growth. In addition to seminars, the series will also feature open discussions and conversations around challenges brands are facing and opportunities to collaborate with fellow attendees to develop solutions.
For more interesting and resourceful articles, visit: ShopEatSurf.com