---
laying in the snow creates an unusual paradox. We seek it out with full abandon, hoping to get into the deep stuff. Colder temps mean better snow, and storm days provide some of the best riding as tracks fill in every lap. But if that same snow and cold air make it to our skin, we aren't going to have much fun out there. The human body is not meant to be exposed to snowy conditions for very long. So to properly enjoy the elements, we need a bit of protection.
---
Best Overall Jacket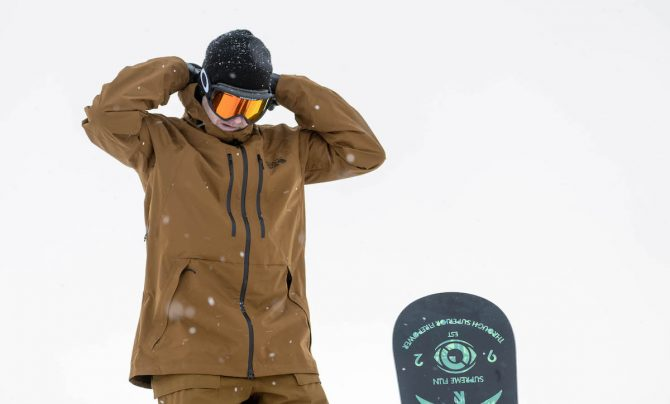 The Mountain Hardwear Boundary Ridge Jacket brings durability, intuitive pockets, solid ventilation and warmth for stormy days. Chances are you'll be stoked on this jacket.
Price: $475
---
Yet simple protection isn't enough — we've gotta look good while out there. Snowboarding has always been about style. The sport came from surfers and skaters who hit the slopes and brought a different aesthetic than the oft-ostentatious body decor that skiers would showcase at high-priced resorts. Nowadays, with snowboarding reaching the mainstream, some of the larger brands have taken notice and no longer discriminate. They make gear that works well no matter which way you stand on snow. That said, there are still some companies catering to a core audience, making sure that one does not need to sacrifice performance for style.
But where to start? With so many options out there these days, choosing the right snowboard jacket can seem overwhelming. But that's where this handy guide comes in. I've worn a lot of jackets over my years of snowboarding and put a number of jackets through their paces this winter while the west coast has undergone the best and worst of climate change. We've had temperatures below zero, rainstorms to the peak, windy days, sunny days, and all of the above days. It's been a strange year, but amongst Mother Nature's fury, these jackets kept me warm and dry.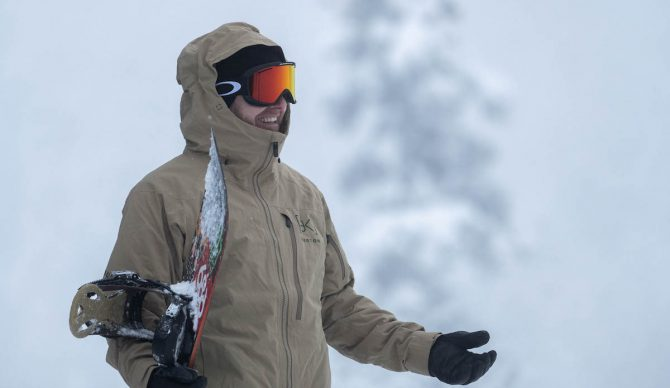 The Best Snowboard Jackets
Here are the ones that rose to the top. Each of these you can't really go wrong with, and it ultimately depends on what you're looking for, as they all do something slightly better. Some are more stylish, some have better pockets, and I've pointed out which jacket is the best in each category. What one person considers the best will be different from another, and so it's important to consider what are the most important features for yourself vs. my opinion on the matter. But hopefully, through this guide, you will know what suits you best.
Best Overall: Mountain Hardwear Boundary Ridge ($475)
Best for Backcountry: Burton AK Cyclic ($425)
Best Insulated Jacket: Jones MTN Surf Jacket ($500)
Best New Features: Forum 3-layer Jacket ($275) and Tech Hoodie ($138)
Most Indestructible: Arc'teryx Sabre Anorak ($700)
Best Lined Shell: Patagonia Storm Shift ($479)
Best Aprés-Style: Whitespace Performance 3-in-1 Sherpa Jacket ($500)
What matters most when buying a snowboard jacket?
When testing these jackets, I used several criteria to evaluate the most important features and scored them out of 10. Each brand has trademarked features that will try to set them apart from the rest, but I tried to ignore the marketing-speak and just hit the points that matter. For me, those are:
Waterproofing: Especially here on the "wet coast," the constant deluge of rain and almost-snow this season made for some seriously soggy days. Most of us know that GORE-TEX is the clear champion when it comes to a waterproof layer. Four of these jackets have GORE-TEX, and three do not. For the ones that don't, they all boast 20k waterproofing, meaning they can withstand 20,000mm of water pressure before the water soaks in. However, the more wear and tear the jacket gets, the more susceptible it is to become a bit more porous.
Breathability: A jacket is only as good as its ability to regulate heat. If it offered complete insulation, your exertions, either uphill or downhill, would make the inside cook to an unbearable level pretty fast. When it's frigid out, that might be a good thing, and a good snowboard jacket should certainly be windproof, but solid breathability and good ventilation are a large part of what sets the best apart from the rest.
---
BEST INSULATED JACKET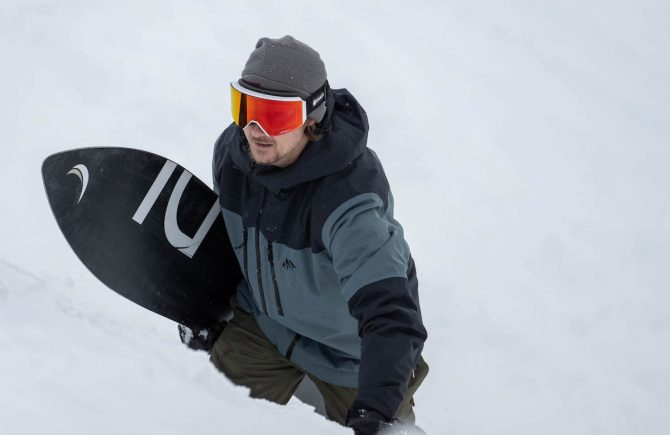 Feeling chilly? The Jones MTN Surf Jacket packs a Primaloft liner to up the warmth factor on this already awesome piece of equipment.
Price: $500
---
Comfort: Feeling good in the clothes you wear is a must. Without it, your mind will be distracted by annoying little things that shouldn't be consuming brain space. Not to mention if movement is restricted, you can't perform your best. So a good fit that feels nice makes a huge difference.
Pockets: Good pockets are essential. Without easy access to gear like goggle wipes, tools, your phone, and even a sandwich, you are more dependent on civilization to keep you alive. Sure, you can stash it all in a backpack, but the way that many jackets are designed now, you can stash a whole lot on your person without needing to dig into a pack.
Warranty/Repair: Wearing a jacket creates wear and, if you're unlucky, a tear. The good news is that many brands now offer the ability to send your jacket in for repair, and if it's defective, possible warranty replacement. Some are better than others, so I've put that into consideration to help you have a jacket that lasts well into the future.
The Conditions
As mentioned before, it's been quite a season so far here in the Coast Mountains of British Columbia (home of Whistler/Blackcomb). It started out with some cold, dry snow that we don't often see around here. Then around Christmas, things changed, and we had rain at the top of the mountain on several occasions. Lately, the freezing levels have dropped, but not the humidity, so the moist air has really been perfect for seeing what these jackets are made of. Along the way, we have had some great pow days and some cold winds, providing further opportunities to test the jackets' prowess as windbreakers and insulators. We have truly seen it all this winter.
---
The Tester
It's an honor to share with you some of my findings, which come from over 30 years of experience in the mountains. I've worked as a filmer and a guide, so some of the extra features, such as pockets, are especially important. I'd like to think of myself as considerably above average but by no means a pro. Speaking of which, since I have no sponsorships, you're getting the real honest truth from me without any bias toward one particular brand. However, that said, I do have biases about certain features based on how I ride and what I expect out of the day. These results are simply one man's opinion, and your needs may differ from mine, so be sure to pay attention to the scores and features of each jacket that matter most to you and where you ride.
Let's dive in.
---
Waterproofing: 10
Breathability: 8
Comfort: 10
Pockets: 9
Warranty/Repair: 8
Overall: 9.0
Whoever designed Mountain Hardwear's Boundary Ridge jacket knows what the people need. Nothing really stood out as a massive point of differentiation compared to the others, yet when adding everything together, it seemed that this jacket has exactly what's needed to have a good day on the hill.
They included just enough pockets to let you stash what you need without making the jacket too bulky or cumbersome. As a result, you get a well-designed jacket that fits well, offers 3L GORE-TEX Protection, and still has a great fit.
The two chest pockets go deep on either end, allowing you to have easy access to goggle wipes, spare gloves, and whatever else you might need in a pinch. Inside are two mesh pockets that can help you dry out goggles or keep skins warm if you're on a touring mission. The rest of the jacket has all the great features one would expect with a top-of-the-line product, such as a powder skirt and pit vents, and the combo of them all had me realize that this jacket would be reliable and trustworthy for many years to come.
---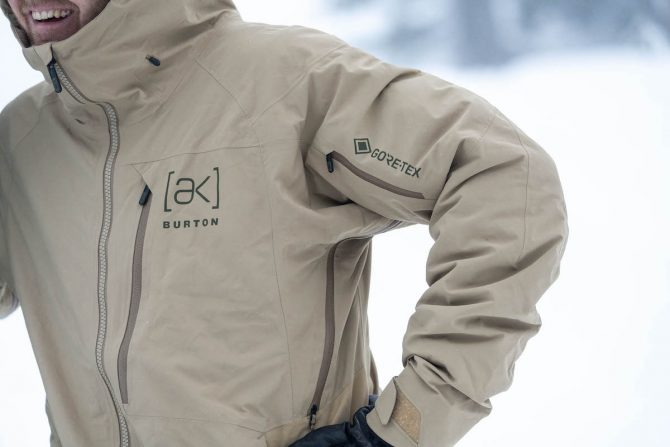 Shop Men's | Shop Women's (Upshift)
Waterproofing: 9
Breathability: 10
Comfort: 9
Pockets: 9
Warranty/Repair: 10 (Lifetime)
Overall: 9.4
Burton's [AK] line is and has been the best line from arguably snowboarding's most iconic brand. While I had no trouble layering up with this jacket mid-winter, the lightweight 2-layer GORE-TEX shell had enough breathability to make me think it would be perfect for those spring booter sessions or uphill travel in the backcountry.
The jacket is chock-full of other great features, particularly its thermo-lined device pocket that helps keep your phone battery (or charging bank) better protected from the elements, allowing it to last longer.
There really wasn't much I could find wrong with this jacket. With over 20 years of development in the Burton [AK] line, their product refinement has been a steady progression into something that will stand the test of time. If it doesn't for some reason, you also have Burton's limited lifetime warranty, so they will fix or replace anything that is out of whack. Following the lead of Patagonia, Burton has transitioned all their gear to getting the Bluesign seal of approval, helping all of us feel a bit better about where to direct our purchasing power.
That said, the only thing holding this jacket back from being my overall top pick was the warmth. As a shell, this jacket ran a bit cooler than Mountain Hardware's Boundary Ridge, which led to that jacket earning our Best Overall recommendation.
---
Waterproofing: 8
Breathability: 8
Comfort: 9
Pockets: 8
Warranty/Repair: 10 (Lifetime)
Overall: 8.6
Jeremy Jones has been leading the pack for big-mountain freeriding for well over two decades. When he set out with his own brand, it was a safe bet that it would be a force to be reckoned with. The boards have been leading the charts for years, and now that the company has an outerwear line, you can be sure it'll uphold the same quality standards you'd expect from a brand that seeks to provide snowboarders with the best experience possible.
While it's not GORE-TEX, the jacket offers 20K waterproof protection and, like Patagonia, a coating free of the dangerous PFC chemicals that many brands are starting to recognize as no bueno. But with the founder of Protect Our Winters at the helm of this ship, you know that sustainability is at the forefront of their decision-making.
The Primaloft insulation gives a nice buffer against the cold while still remaining lightweight. The outer shell uses partially recycled polyester, giving the jacket a nice stretchy feeling that is easy to maneuver.
This is the jacket to get if you're not the type to wear tons of layers, preferring instead one jacket that will be a go-to to keep you warm out there.
---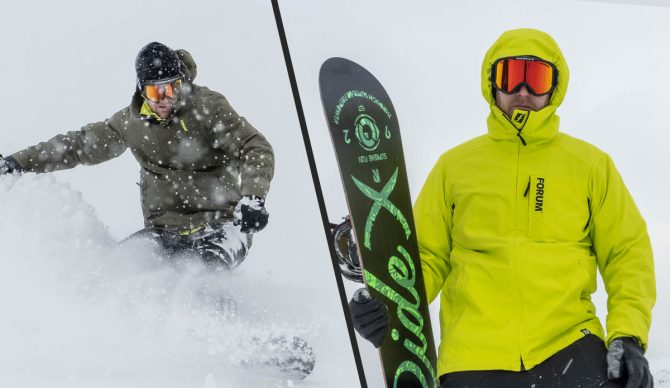 Shop Men's and Women's (Unisex)
Waterproofing: 8
Breathability: 9
Comfort: 9
Pockets: 9
Warranty/Repair: repair policy is TBD.
Overall: 8.75
Those of you who have been around a while will have fond memories of Forum and their classic shred films from the '90s and early '00s, such as The Resistance, True Life, and more. Their team was a powerhouse that included all disciplines of riding, helping to raise the bar for the sport in general. After closing shop in 2008, the brand is back, with some of its top riders at the helm.
The Tech Hoodie and 3L Jacket are nothing short of revolutionary, if I may be so bold. Legendary Forum rider Peter Line designed the kit, and it's obvious that this guy shreds from what he came up with.
Starting with the outer jacket, the 3-layer material has the perfect amount of stretch that allows for a wide range of motion while fitting well enough not to catch the wind at high speed. The seams all seem to fit ergonomic lines on the body, so no matter what tricks you are throwing, it'll be your own abilities holding you back and not what you're wearing. Both the jacket and hoodie, as well as their great matching accessories from bandana to travel pillow, are treated with HeiQ's HyproTecht, which blocks the growth of viruses, mold, and other unwelcome microorganisms that might be present in a ski-town share house or the back of a 2004 subaru.
Interestingly enough, one of my favorite features on the jacket and hoodie was the zipper – the YKK Conceal zipper. I'd never seen anything like it in all my years, and this small change in design made zipping up with gloves or mittens so much easier. Another great feature was the self-packing pocket. The entire jacket stuffs into itself to allow you to stash it in your pack without consuming all the extra space.
The tech hoodie was great all on its own, too. It's got a great color that stands out and can be used as an outer layer when the weather cooperates. The interior pockets were some of the deepest I'd tested, letting you stash whatever you need in there and still allowing freedom to move.
---
Waterproofing: 10
Breathability: 9
Comfort: 7
Pockets: 7
Warranty/Repair: 8
Overall: 8.2
I had never worn a pullover jacket before, and it was admittedly something to get used to. However, when the storms were stormin', it would take anything that came it's way. The shell is durable yet light and easy to pack when you want to just stash it when the storm clears. It did its job of protecting me from even the worst rain and wet snow like a true champ. The 3L GORE-TEX truly does live up to the hype. Whether or not you think it's worth paying a premium for is a decision for careful thought, indeed.
It has a single massive kangaroo pocket with plenty of room. I could fit a spare pair of goggles, gloves, a sandwich, and my GoPro in there with room to spare. Some may not like that everything is in one pocket, others may appreciate the ease and convenience of having everything within belly reach.
The jacket has large vents on the side to let off steam and an interior powder skirt with a mesh top to help aerate as well. When the sun pops, it will pack nicely into your backpack without hogging the whole compartment — something that not every GORE-TEX shell can claim.
If you're not into the anorak style, the Arc'teryx Sabre Jacket brings the same durable construction with a front zip.
---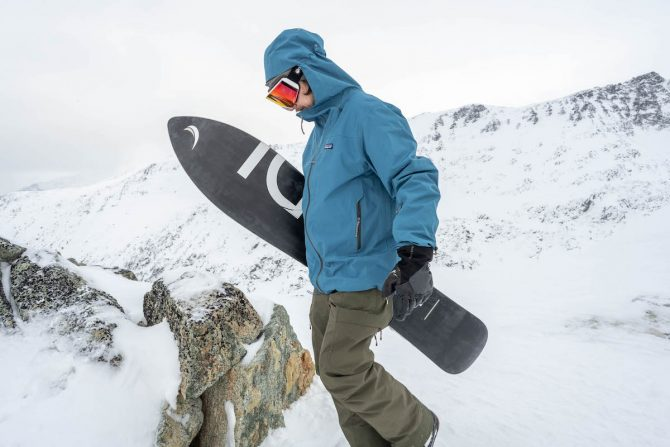 Waterproofing: 9
Breathability: 8
Comfort: 10
Pockets: 8
Warranty/Repair: 10
Overall: 9
While many snowboard jackets are simply a shell, the Patagonia Storm Shift went a step further and added some soft liners on the inside to make it comfortable even off the mountain, wherever you may be. This isn't an insulated jacket but rather a shell with some added comfort. The side pockets are also lined, meaning you can warm up your hands even if your gloves are soaked, or you're just milling about the city and forgot to bring 'em. The only downside of the thin lining is weight for those getting out there in the backcountry. The jacket remains quite breathable and has the ever-essential pit zips to dump heat as needed.
In true Patagonia fashion, they use recycled materials throughout the garment and are the only company to remark on using PFC-free chemicals for waterproofing. I had to look it up, but PFC-free means no fluorinated chemicals — something that ends up in our ecosystem and is even absorbed by humans and animals. Sounds like a huge win for our future and our health in general, which helps make buying this jacket a wise consumer choice. Furthermore, if something breaks on the jacket, Patagonia famously will fix it for you, ensuring this jacket will be hitting the slopes for many seasons to come.
If you're a fan of Patagonia, but not the extra weight of a thin liner, check out Patagonia's Stormstride Jacket ($500).
---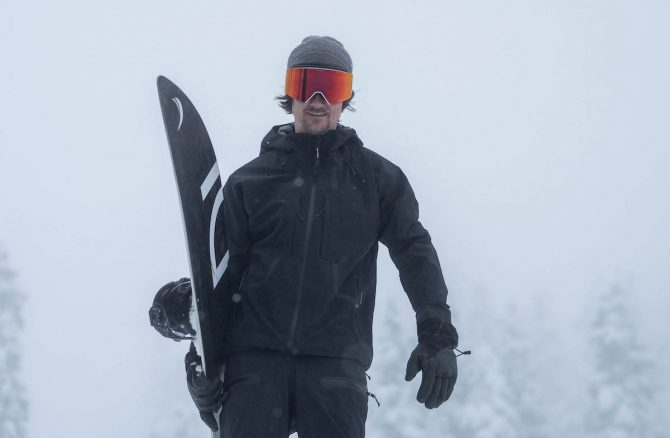 Waterproofing: 7
Breathability: 6
Comfort: 7
Pockets: 7
Warranty/Repair: 7 (4 Years)
Overall: 6.8
Shaun White and Jeremy Jones have little in common besides being snowboarders with their own brands. Mr. White is new to the scene, so it was worth giving his gear a spin, as he is reported to be an integral part of the design process. The Sherpa jacket is his brainchild, offering a two-piece shell and fleece liner setup that provides plenty of warmth as a combo.
The design is meant to give off a slim look, meaning that if someone isn't into the loose-fitting baggy setup that most snowboarding gear trends toward, this may be more your scene. I'm not one of those, as I enjoy a bit of room inside a shell for layering and ease of movement. With the fleece in, it's almost too bulky. Without it, not enough.
What I will say is that the jacket received multiple remarks on being "nice" by attractive women throughout the village stroll. If you're the type of rider who does a few runs and then heads to a sunny patio in search of good times, this may be just what you're looking for!
It's also designed for a more slim build, with wide shoulders and a tapered waist that gives it a very tailored look. It's the most "business" of everything I tried on, so really, this one for me comes down to having an alternative take on snowboard fashion from what else is out there these days.
---
Comparison Table
---
Caring for Your Jacket
These jackets are all an investment in your comfort and safety on the mountain. It's true they cost a decent amount, but if cared for properly, they should last many seasons to come. Here are a few tried and true methods for making sure your jacket will remain as good as the day you bought it.
Storage: Make sure you store your jacket with care. I know from painful (and smelly) experience that just tossing it in the backseat will add further wear and tear and invite some microscopic friends. The more the fabric rubs against surfaces, the more the waterproof coating will go away, so be sure to hang it up, if possible, in a warm and dry place. Stashing it outside in the elements will lower its performance.
Repairs: As mentioned before, most companies offer some sort of repair policy. The key is to take advantage of it! Don't let something small turn into something big out of laziness. These days some repair marks can be seen as a badge of honor. It means you're really using the gear to its fullest. Plus, it's so much cheaper than buying something new, so there really isn't much reason to let things go unrepaired. Pay close attention to the seams at the zippers. Those are often the first places to go.
Washing: Be sure to check the tag for detailed instructions, but a good idea is to only wash cold and to use liquid, not powder, detergent. If you use the dryer, use a low temperature setting, and if you hang dry, you may need to use an iron (not too hot!) to reactivate the waterproof coating.
Waterproofing: The waterproof coating can rub off over time, so it's a good idea to re-up with a waterproof treatment every so often. Be sure to test a small area before applying to make sure it gets the desired result. Don't forget to read the instructions, as different products work better for various fabrics. Depending on where you ride and how often you ride will determine how often you want to do this treatment. Once every 100 or so days of riding should be good.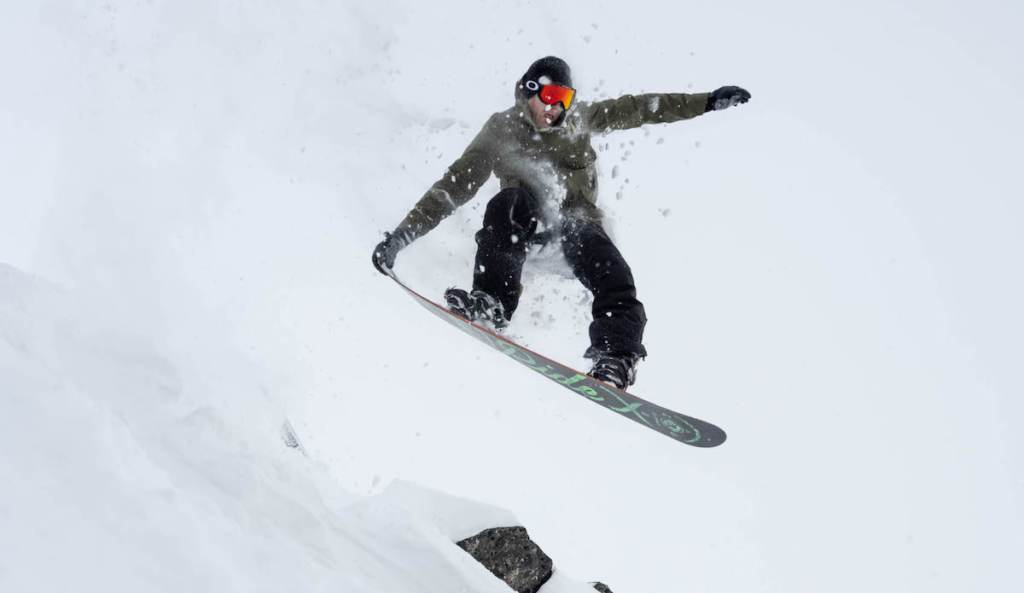 ---
Final Thoughts
All the jackets listed here are going to be a good choice. It really comes down to who is doing the choosing. You want the gear to last but also be functional and allow the material to work to your riding style and just how you use the jacket in general. If it's strictly for riding, you might want something different than someone who uses it all winter, from the mountains to the trails to the rainy city streets.
Whatever you choose, make sure to take good care of it and to shred hard, knowing that things may happen, and these brands have your back to make sure your gear lasts.
Happy shredding!
Editor's Note: For more gear reviews and features on The Inertia, click here.
---
Founded in 2010, The Inertia is the definitive voice of surf and outdoors. They approach the natural world and its devoted culture with curiosity, optimism, and respect. They take pride in bringing their passion for the oceans and mountains to life through original films, reporting, and monumental gatherings. They aim to make a positive impact on the planet through partnerships with nonprofits working hard to preserve earth's sacred places. Be sure to visit The Inertia website to view valuable Surfing and Outdoor related News and Resourceful Articles regularly.
---
If you are not yet a BRA Retail Member, you can easily opt in to either Regular (no cost) or Distinguished ($100/yr.) Membership via this super simple join form